Aylesford-based Shakespeare Transport is to switch from the Palletways network to Palletforce later this year.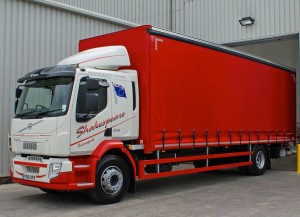 The company was purchased by Matthew Kibble Transport Holdings in 2015. Managing director Matthew Kibble said: "After buying Shakespeare Transport we were approached by a number of pallet networks asking if we would be interested in changing. With its significant investment in infrastructure and IT, I felt that Palletforce's quality ethos demonstrates a long term, viable and successful partner for Shakespeare Transport."
Shakespeare Transport started out specialising in distribution for the book market and the paper industry in the 1960s, has a 16-strong fleet and employs 40 staff. It operates independently from Matthew Kibble Transport which is based in Nelson in Lancashire.
Palletforce chief executive officer Michael Conroy said: "Kent is a hugely important strategic area for us and it is essential that we have the very best operator in place. Shakespeare Transport is the stand-out candidate since its acquisition by MKT, and we are delighted that Matthew has chosen to come on board. I have no doubt that both he and they will prove valuable additions to the Palletforce network."