A new report by FedEx Express has found that over 63 per cent of UK small and medium sized enterprises are exporting and taking advantage of declines in the value of the pound.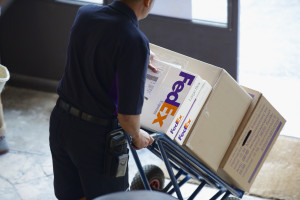 According to the research, exporting revenues make up 59 per cent of SMEs' total revenue– a third of which are anticipating revenue growth to grow in the next year.
The report, "SME Export Report: Digital Economy Fuels Optimism and Growth Among European SMEs," found that 86 per cent of exporting UK SMEs trade in Europe, while 63 per cent trade outside of Europe.
E-commerce is identified in the report as a key driver of the growth, with 81 per cent of UK exporting SMEs generating revenue via online.
Top UK SME Export Markets (within Europe)

France – 60%

Germany – 56%

Ireland – 43%

Spain – 39%

Italy – 35%

Netherlands – 35%

Belgium – 33%

Top UK SME Export Markets (outside Europe)

USA – 38%

India – 20%

Australia – 16%

UAE – 15%

South Africa – 13%

Brazil 11%

 
"It's promising to see exports could be having a positive impact on the UK economy," said Ed Clarke, managing director, UK ground operations, FedEx Express.  "To continue this upward momentum, governments and businesses across the world should play an increasingly important role to align SMEs exporting ambitions with the digital economy – providing more opportunities to reach new markets and customers."
Clarke adds: "British SMEs are the bedrock of the economy. As these businesses are displaying such great resilience in times of uncertainty, there will no doubt be an upswing in exciting and ambitious SMEs who also want to make their mark in today's economy.  By benefiting from advice from their logistics providers, these enterprises will be ready to meet the challenges head on with a lot of positivity."