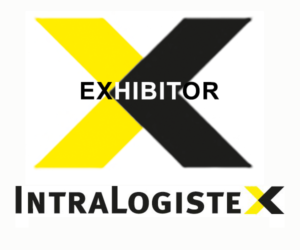 With the Plastic Packaging Tax (PPT) coming into effect on 1st April, you would be foolish if you hadn't started preparing for the potentially costly new levy. But that shouldn't apply to the packaging of your products.
As you would expect, several exhibitors at IntraLogisteX are ahead of the curve and have been hard at work developing clever circular solutions to reduce the volume of plastic used in warehousing, too. One of those areas, perhaps overlooked, is pallet wrap. That's where Protega comes in – and the company's Daniel Willock (pictured on the right, below) has this morning reported great interest in 'Hexcel Stretch – Pallet Wrap', a brand-new sustainable solution on show at IntraLogisteX in Coventry.
"It's a 100% paper-based pallet-wrap system," Willock reveals. "It's fully recyclable, plastic-free and provides maximum protection and adhesion to ensure integrity of goods during transport."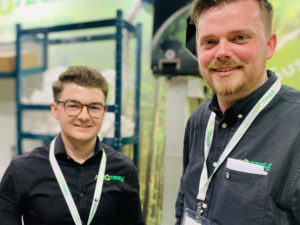 The Hexcel paper product can stretch into shape, maximising the strength and stiffness of its fibres, and in doing so creates a much stronger wrap with the capability to nearly double in strength, according to Willock. "This leads to a robust, stretchable pallet-wrapping product that can outperform environmentally-harmful, plastic-based product protection alternatives."
The new Plastic Packaging Tax will be payable by manufacturers and importers of plastic packaging containing less than 30% recycled plastic content at a rate of £200 per metric tonne where certain thresholds are met. According to the HM Revenue & Customs policy paper, the objective of the PPT is to 'provide a clear economic incentive for businesses to use recycled plastic material in plastic packaging'. This will help to create demand for recycled material and in turn stimulate increased levels of recycling and collection of plastic waste, reducing the amount that ends up in landfill or being incinerated.
Hexcel Stretch can seamlessly integrate onto existing automated pallet machinery, which means no modifications are required or special machinery. "Customers can simply add the new material to their current pallet wrapping equipment and begin use immediately," Willock concludes.
Protega is exhibiting on Stand 314.