Trailer manufacturer Cartwright is to build Transdek designed double-deckers under a new deal between the two companies.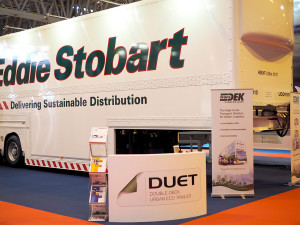 Transdek managing director Mark Adams is a strong advocate of high-capacity goods vehicles as a primary means to improve road transport efficiency and sustainability, and the company has come up with innovative designs for double deck trailers – notably the Wedge design for trunking and the Duet urban trailer.
Cartwright will add Transdek's fixed double deck trailer products and features into its product range. The agreement will combine sales and marketing resource. Transdek will continue to develop innovative concepts and specialist fixed double deck trailer prototypes as part of the partnership.
Included under the agreement will be Transdek's Urban and Wedge double deck trailers, both of which provide up to 100 per cent extra load compared to conventional, single deck equivalents.
"Cartwright has the production capacity to manufacture larger volumes of trailers and expand its product offering under a licensing agreement that will enable us to focus on our core activities of design and development of sustainable fixed double deck trailers, along with our loading bay lifts and associated services. We are delighted to be working closely with them," said Adams.
And Mark Cartwright, group managing director of Cartwright, said: "We see the combination of our manufacturing scale and experience, alongside our flexible finance and rental options, with Transdek's innovative flair and fixed double deck expertise, as a winning formula which will have a major impact on the industry."