Transdek is launching a new XL double deck trailer, custom built for Boots UK, at the CV Show next month.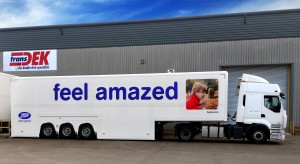 The XL double deck trailer carries up to 60 per cent more load than a standard 13.6-metre artic. It incorporates a fixed second deck that creates space for up to 38 pallets, 54 Euro pallets or 72 roll cages (with a footprint of 750mm x 830mm). Built on an ultra low chassis, with the base floor just 281mm above ground, each deck has an internal height clearance of 1877mm.
Managing director Mark Adams said: "We are continually aiming to develop cost effective transport options that maximise load capacity and minimise mileage, operating costs and CO2 emissions. Our double deck trailers are built around exceptional quality, with an attention to detail that ensures each trailer will offer a lifetime of reliable service, as well as incorporating the latest, state-of-the-art technology."
The company will also be exhibiting one of its Wedge trailers and the latest V2G (vehicle to ground) modular, integrated lift-loadhouse on stand 3B100.
Completing the stand will be one of Transdek's latest V2G double deck lifts, which has been custom designed for one of the largest internet-based retailers in the world. The lift carries nine pallets (1000mm x 1200mm), is 7.8m long and has a 5.5 tonne capacity.
---
Continental Tyres highlights operator solutions at CV Show
Continental Tyres will highlight its operational solutions, designed to help inform fleets, put efficiency and safety first and provide a complete service to complement its comprehensive range of commercial vehicle tyres.
ContiPressureCheck, the tyre pressure monitoring system, as a standalone system or with full telematics integration, has been developed this year, with the roll-out of the group's ContiYardReader TPMS system this summer. The ContiYardReader system will allow fleet managers to monitor tyre pressures automatically for all vehicles in the yard adding further accuracy to fleet maintenance and helping to prevent costly tyre breakdowns.
The group will also highlight how it is further developing its operator services, including the growth of the highly developed Conti360º Fleet Services network as part of Continental's on-going commitment to providing exclusive all-round service to fleets.
A selection of Continental's range of commercial vehicle tyres will of also be on show. Mat Wilkinson, commercial sales and marketing director, said: "Commercial vehicle operators continue to strive towards greater fuel and cost efficiencies and with this in mind Continental has invested in providing not only market leading tyres but a robust range of services and solutions to support our customers throughout their operations. The CV Show offers us the opportunity to discuss how Continental can help, with the right tyres, and the right solutions to take your commercial business forward."