DAF, MAN and Iveco will all be returning to the CV Show this April, where they will join more than 450 exhibitors.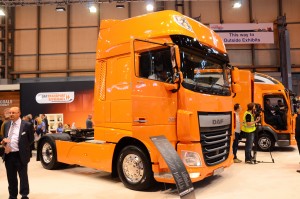 DAF Trucks will be focusing on the theme of transport efficiency – the company offers a number of product enhancements including silent mode and predictive cruise control. It will be displaying a number of its models from its LF, CF and XF ranges.
"We're very excited to be back at the CV Show in 2017 and to be flying the flag for the heavy truck industry," said DAF marketing manager, Phil Moon, "We've enjoyed a market leading position for over two decades now, and it's for good reason.
"We're a very sociable company, too," he said, "and CV Show visitors will be made to feel very welcome on the DAF stand, in our outside exhibition area and on our fantastic new Showtrekker hospitality unit."
MAN will debut its new van, the TGE, as well as its range of heavy trucks.
Iveco will be represented by Guest Trucks – which is the company's biggest heavy truck dealer group.
The event takes place on 25th-27th April at the NEC in Birmingham.