Xpediator has said it has introduced temporary pay reductions, reduced costs in areas where activity is lower and suspend "certain capital investment projects" until the coronavirus crisis has passed.
However the freight management services company said that notwithstanding Covid-19 it had made a 'solid' start to 2020 with turnover "slightly up" on a like-for-like basis for the first three months of the year.
For its financial year 2019 Xpediator saw turnover rise 19% to £213.2 million, with like-for-like turnover up 10.4%. Adjusted profit before tax was £5.2 million.
Chief executive Stephen Blyth said: "The outbreak of Covid-19 has changed the commercial world, with the duration and ultimate impact of the virus are as yet unknown.
"Our objective is to protect our staff and business, and to ensure we are well placed to resume normal operations and potentially capitalise on opportunities when the virus impact subsides.
"As an asset light business with low fixed overheads we are better placed than some, with demand for our services holding up and, in some areas, seeing an increase. However, given the current uncertain environment we have taken measures to protect the business by reducing salaries and costs across all entities."
Learn more on Logistics Manager
Xpediator tackling COVID-19 challenge 'head on'
Expanding Import Services pre-lets Southampton warehouse
Blyth said that Xpediator would continue its acquisitive approach and he believed that the current crisis would provide "many opportunities to reach our target to grow the business over the next few years".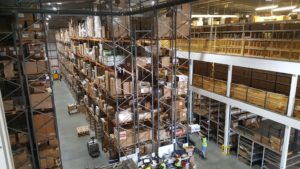 Xpediator's freight forwarding dividion saw turnover increase from £136.9 million to £159.6 million in 2019, with operating profit up to £3.4 million from £3 million in 2018.
Its warehousing division saw turnover rise to £47.5 million in 2019, from £35.9 million, with operating profit fell to £2.9 million from £3 million in the previous year.
Its transport services division saw turnover fall in 2019 to £6.2 million, from £6.4 million, while operating profit rose to £2.5 million from £2.3 million.
Non-executive chairman Alex Borrelli also said that Xpediator's Brexit team had been working closely with leading transport associations and port authorities to plan ahead to when the UK's transition period for its departure from the European Union ends on 31 December 2020.
He said that the group already holds Authorised Economic Operator status which would be critical in being able to support both exporters and importers post-Brexit under most forecasted scenarios. Borrelli said it was an area to grow the profitability of the group.