Zipline has launched what it describes as the "fastest commercial delivery drone on earth". The drone delivery company has overhauled its existing logistics and delivery service to enable global expansion.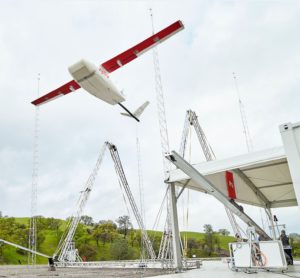 The company's new autonomous aircraft flies further, faster and with more cargo than its previous model. According to the business, the improvements will decrease the amount of time between Zipline's receipt of an order and launch of a fulfilment flight from ten minutes to one, increase the number of daily delivery flights that each Zipline distribution centre can make from 50 to 500, and expand the radius of each distribution centre to serve populations of up to ten million people.
Zipline's new delivery vehicle is an autonomous fixed-wing style aeroplane capable of flying at a top speed of 128 km/h, and a cruising speed of 101 km/h—21 km/h faster than the previous generation of aircraft—with a round trip range of 160 kilometres carrying up to 1.75 kilos of cargo. The new plane is capable of flying four times faster than the average quadcopter drone and can serve an area 200 times as large.
"Our first generation aircraft and logistics system allowed us to create the first and only drone delivery service in the world, which is helping to save lives in Rwanda every day," said Zipline chief executive Keller Rinaudo. "We've taken everything Zipline has learned making thousands of life-critical deliveries and flying hundreds of thousands of kilometres and redesigned our entire system and operation from top to bottom.
"The new aircraft and distribution centre system we're unveiling today will help Zipline scale to meet the needs of countries around the world—including the United States."
Zipline launched a national delivery operation in Rwanda for deliveries of blood, plasma and platelets to 21 hospitals in the country. The company is now working with state governments in the US to launch its medical drone delivery as a part of the Federal Aviation Administration's recently announced UAS Integration Pilot Program.