£60m Felixstowe rail scheme gets green light
The Port of Felixstowe has been given the green light by the transport secretary for a £60.4 million rail improvement scheme. The scheme is jointly funded by Network Rail and Hutchison Ports, and will allow up to 47 freight trains to run per day in each direction between Ipswich and the port.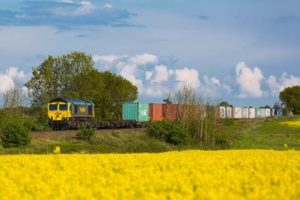 "Rail is an increasingly important differentiator as shipping lines and cargo owners look to remove carbon from their supply chains," said Clemence Cheng, executive director, Hutchinson Ports and CEO of the Port of Felixstowe. "The Port of Felixstowe already has the widest choice of rail services in the UK with 33 daily services to 17 different inland destinations.
"This scheme complements the investment we have made in rail capacity at the port and will allow us to offer an even greater range of sustainable distribution option to our customers. Over 100 million HGV miles per year are already saved by using rail freight from Felixstowe and we look forward to that figure increasing significantly in future."