Retail chain Boyes has taken delivery of a Transdek fixed double deck trailer that has been specifically engineered to accommodate the company's 1830mm high roll cages on urban deliveries.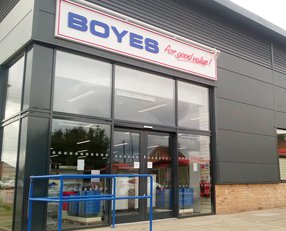 The 11.8 metre step frame ambient trailer replaces two rigid lorries previously required to service Boyes' regional stores and makes multi-drop deliveries over a predefined network of daily routes.
It provides an increased payload volume of 15 per cent, which cuts 364 journeys annually, saving over 55,250 miles and 1,950 hours of working time per year.
Boyes, which has 62 department stores, also uses Transdek loading bay lifts and associated equipment. "Transdek has worked closely with us to develop the ideal fixed double deck solution to meet the demands of our store delivery profile and diverse product mix," said Mike Gaines, distribution manager at Boyes. "The lifts and trailer work in synergy to provide a very effective distribution package. Transdek also ensures maximum uptime with a full range of maintenance services of all equipment."