The December 2018 issue of Logistics Manager is out now online as well as for the iPad and Android.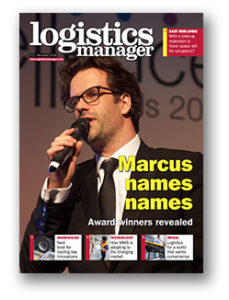 Cover story: Supply Chain Excellence Awards
See the winners here…
Retail:The world wants convenience
With the UK convenience channel set to reach £47.2 billion by 2023, the emphasis on convenience stores has never been stronger…
Forklifts: Articulate solution to warehouse space
Need more warehouse space? Rather than looking for another warehouse, it might be worth looking at making better use of the existing facilities…
Loading Bay: Loading at the next level
Loading bay innovations are taking safety, security and efficiency to a whole new -potentially multi-storey – level…
Information Technology: WMS: jack of all trades?
Warehouse management systems have been around for decades, but how are they changing to address developments in the market?
Urban warehouses: Thinking outside the box
The pressure on urban logistics is only going to get greater but can we provide the space that is needed?