DSV UK invests in 50 new trucks
DSV UK has invested in 50 new rigid 7.5 and 18.0 ton Volvo trucks to add to its fleet.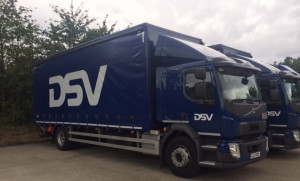 The trucks will be based in Purfleet, and will primarily be used in London and the South East. The trucks have tail lifts, and have the latest Euro 6 engines.
Nick Trencher, DSV divisional general manager UK Domestic, commented on the acquisition: "We are extremely pleased with our investment. Nationally we now have 250 vehicles, increasing up to 300 at peak periods with 7.5 ton and 18.0 ton units making up the majority of the fleet. These new vehicles ensure we have the latest model fuel-efficient, emission compliant vehicles and provide total reliability, which can service fast growing volumes. Most of the trucks are now on the road and we will continue to add new vehicles to the fleet until September."