Volvo used Calor's LNG facility at Donington Park Services for the first fill for its new gas-powered truck.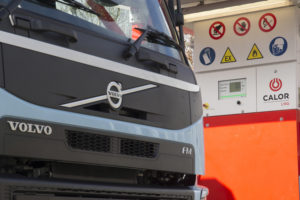 The Volvo FM LNG with a 460hp engine is capable of delivering 20 per cent less CO2 than a regular Volvo FM truck. It is also quieter than the equivalent diesel.
"LNG is the fuel that is best positioned to quickly become a competitive and globally available alternative to diesel," said Martin Tomlinson, Volvo's head of product demonstration.
"Ensuring that the necessary infrastructure is in place to support the uptake of LNG is absolutely critical, which is why Calor's investment in its LNG refuelling network across the UK is so important. Moving to LNG will help cut the long-haul transport industry's dependence on diesel, lower CO2 emissions and help haulage companies meet their customers' increasingly tougher environmental demands."
It is predicted that natural gas could account for 20 per cent of HGVs sold by the early 2020s.
"For long-haul HGVs, LNG is a low carbon, competitively-priced fuel solution with good availability," said Mark Gilks, transport specialist at Calor.
"As well as Donington, we operate stations in Lockerbie, Castleford in West Yorkshire, Lymm in Warrington, Grantham, Wolverhampton and Bristol. With plans to expand this network further already underway, we are committed to helping the industry towards a more sustainable future."