Ford has launched a scrappage scheme which offers incentives of up to £7,000 on some of its Transit models.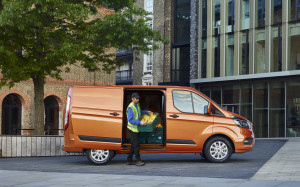 The scheme applies to any pre-Euro 5 vehicle registered before December 2009. The incentives cover a number of new van and car models including:
Transit Custom (£5,500 total scrappage offer)
Transit (£7,000 total scrappage offer)
Transit Connect (ex base) (£5,000 total scrappage offer)
Transit Courier (£3,650 total scrappage offer)
Andy Barratt, chairman and managing director of Ford of Britain, said: "We don't believe incentivising sales of new cars goes far enough and we will ensure that all trade-in vehicles are scrapped. Acting together we can take hundreds of thousands of the dirtiest cars off our roads and out of our cities."
The scheme will run to the end of the year and is effective for registrations from 1st September to 31st December.
Ford is planning to start trials of a plug-in hybrid version of the Ford Transit Custom later this year. The Transit PHEV is planned for commercial introduction in 2019 and is part of Ford's total investment of $4.5 billion in electrified vehicles by 2020, which also includes a fully electric, long-range SUV.