Pallet network Fortec has introduced 'simply European', a service that provides daily and scheduled departures, to 24 European countries. The service is intended for frequent low pallet volume loads.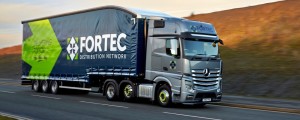 "We are delighted to offer our customers this extended service with our long-standing partners who all offer the same high quality standards that people associate with Fortec," said Dave Spong, general manager commercial, Fortec. "We can offer an unrivalled service providing access across Europe with our well-established routes as a result of being part of the Geodis group".
The premium service delivers the 'quickest possible transit times' and 'places freight as priority on the next daily outbound trunk to Europe'. This service is available to 14 countries – Austria, Belgium, Czech Republic, Denmark, France, Germany, Hungary, Italy, Luxembourg, The Netherlands, Poland, Slovakia, Slovenia and Spain.
The economy European service delivers to these 14 countries, as well as Bulgaria, Estonia, Finland, Latvia, Lithuania, Norway, Portugal, Romania, Sweden and Switzerland with scheduled departure days.