Hyster has previewed its forthcoming J8.0XN forklift truck, which it says is the first 8 tonne electric truck that can deliver near internal combustion engine performance.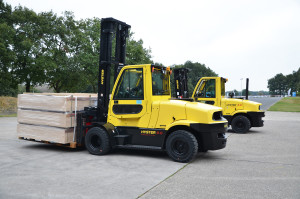 The truck uses a lithium-ion battery that can be fully charged in two hours and supports three-shift operation.
It is faster to accelerate over the first 15 metres and lifts at the same speed as the Hyster ICE model, according to Phil Ireland, senior product strategy manager.
There is a top speed of 21.4km/h (unladen) and 18km/h (laden) which Hyster says is a full 4km/hr more than the nearest competitor, while noise levels at the operator's is just 73 dB(A).
Ireland said: "The new electric J8.0XN provides similar performance to the Hyster LPG equivalent in most normal paper, timber and steel applications, giving businesses the option for zero emissions and quieter operations.
"It is an 8 tonne capacity forklift that will suit companies with large fleets and will be particularly interesting for timber firms that produce their own electricity," he said.
The initial cost of the truck, battery and charger is higher, but in the right applications, the overall cost of operation over the life of the truck is reported to be significantly less.