Customer requirements for e-commerce logistics may seem to be endless, but personalisation is one item on the list that may deliver value for supply chains, writes Johanna Parsons.  
Everyone knows shoppers are a pain for logisticians.  The demands for personalised shopping experiences, later order cut-offs and slicker delivery options are just a few more items on the list of supply chain pressures. Keeping up with customer expectations has been the overriding logistics challenge since the inception of online retail. But now, as end-users are getting more involved than ever, their engagement is actually enabling sophisticated logistics processes.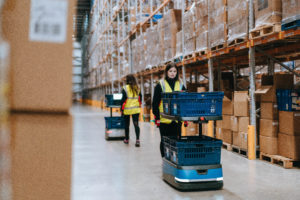 Global e–commerce sales are projected to reach $6.5 trillion (£5 trillion) by 2023, according to eMarketer. In the UK alone online sales accounted for 21% of total sales in 2019 according to Deloitte, and by 2028 more than half of UK sales will be online, according to research conducted by Retail Economics.  E-commerce is at the forefront of retail, transforming how we sell to each other. And driving it all are those pesky online shoppers. 
The 2019 UPS Pulse of the Online Shopper study found that nearly 90% of British shoppers research items before purchasing them online. "Online shoppers in the UK are savvy and sophisticated, with high expectations when it comes to e-commerce," said Mark Vale, President, UPS UK, Ireland and Nordics. "They educate themselves about their purchasing choices and demand control over delivery and returns options. In order to thrive, businesses need to be alive to this challenging operating environment and ensure they give their customers the flexibility of choice that people now routinely want to see."  
Delivering that flexibility puts fulfilment and logistics processes squarely in the spotlight. "The goal of multi-channel retailing is to make the customer experience both seamless and consistent across all of the buying channels, and logistics plays a significant role in being able to achieve this," says Chris Jones, executive vice president, marketing and services at Descartes Systems Group.  
He concurs with the UPS research that online shoppers are increasingly discerning.  Home delivery options and cost factors are becoming highly influential in the buyer's decision-making process, and leading retailers are keen to provide a harmonised customer experience aligned with the logistics and home delivery process.  
"Rather than having separate delivery channels for in-store and online, they are combining the logistics operations or co–ordinating them when they cannot be combined. This has required retailers to invest heavily into logistics processes, and the results are advantageous with reduced levels of stock and consistent customer experience regardless of the sales channel," says Jones.  
This represents something of a balancing act.  A lean supply chain and just-in-time fulfilment are hugely efficient, but it's all very difficult to do when there's a huge range of SKUs. Customers increasingly want personalisation from the initial interaction with the retailer right through to delivery. Delivering that for each and every customer with the added challenge of consistency across all channels is no mean feat. 
Of course, the array of automation and IT available means that delivering these exquisite offerings is imminently possible, it's just a question of the cost. Martin Willmor, managing director supply chain solutions, DHL Supply Chain says the biggest challenge is still that of fulfilling customer promises while maintaining cost-effective delivery.  He says it requires a considered approach, often involving a tailored logistics solution for each particular retailer. 
"The continued growth in e–commerce has necessitated continuous innovation from retails and their 3PL partners," says Willmor. 
More from Logistics Manager
E-commerce sales up 23% year-on-year in early weeks of pandemic
Omni-channel ingenuity 
Indeed, the plethora of retail channels and modes attest to the ingenuity retailers have deployed to continue their mission to sell. Omni–channel now includes selling via mobile phones in apps or via social media platforms, and voice activated orders via home assistant speakers and even potentially home delivery via drone or Uber. Willmor cites deliveries to car boots and smart locks for home delivery to empty houses as a few of the latest ideas for the final mile.  But the lateral thinking is being rolled out throughout the supply chain and is shaping warehouse networks. 
Consolidation centres are one concept that was once seen as a specialist supply chain offering.  But they are now becoming a key aspect of retail supply chains when geared to the needs and constraints of urban areas says Willmor. "Consolidation centres, in particular in multi-retailer environments like airports, shopping centres and congested urban areas, provide a convenient solution to meet fulfilment demands whilst reducing the environmental impact of logistics operations." 
The combined demands for control over options such as delivery and lightning quick order turnaround are also shaping warehousing strategy. "As omni-channel warehousing and fulfilment centres require more flexibility in size, services, and location to react to demand in the shortest amount of time possible, retailers find themselves needing to assess the fixed assets they already have, and how they can be used. For example, retailers can potentially use their bricks and mortar portfolio as micro-warehouses to service all channels. This will help them improve e–commerce lead times and reduce delivery costs, ultimately sweating the assets to improve customer service quality," says Willmor.  
The concept of a nationwide warehouse network is an enviable one, particularly for pure-play retailers with no store infrastructure to fall back on. Amazon has decided it's an asset it must have and has been buying up regional DCs across the UK to extend its reach. Such massive strategic investment from Amazon is significant as they are often ahead of the curve and others may well follow. The rise of marketplaces such as Amazon has been pegged as a trend by Descartes in its recent "Top five trends influencing e-commerce fulfilment"  and the UPS Pulse of the Online Shopper found that 96% of shoppers have used marketplaces such as Amazon and eBay.   
Emerging new routes to retail such as progressive web apps (PWAs) are also shining light on future retailing. Arno Ham, chief product officer at Sana Commerce, explains: "Originally introduced by Google back in 2015, PWAs have already attracted a lot of attention due to the relative ease of development and the sleek user experience they offer. While they very much look and feel like a mobile app, they're built using web technologies, making them operating system agnostic." 
Developments are also focussing on utilising real time data to facilitate delivery.  One concept is the demand response matrix (DRM) which is in effect an algorithm that can make instant calculations using numerous factors such as driver experience, van volume and shift times to re-route drivers allowing them to crisscross each other's areas to improve efficiency. This is the kind of responsive system that will enable better customer control, such as amending delivery destination even after dispatch. 
Another tool is distributed order management, (DOM). Salman Malik, senior vice-president and general manager, order management, at Salesforce, says "With tools like [DOM] we can treat retail locations like fulfilment centres (for ship-from-store or same-day delivery). Or we can do "endless aisle" transactions from the store to ship to home from the warehouse. As these traditionally-siloed channels blend into each other, we need to rationalize inventory, business processes, customer data and preferences, so that the person managing each touchpoint has the most complete picture to do their job." 
Malik reckons that customer engagement is key. "Successful retailers will be those who use the power of modern order management systems to orchestrate fulfilment and are deeply integrated to customer touchpoints to keep customers in control of their fulfilment experience." 
More from Logistics Manager
Next shuts down distribution due to COVID-19
Data and visibility 
This reflects the importance of data and visibility. In this light, increased customer demand is being used as an advantage. Savvy online shoppers are more engaged, and perhaps interact in more ways and through more platforms, giving retailers more knowledge of the customer to inform their actions. But the IT will be crucial. 
"Customers now have multiple touch points with a retailer, and each touchpoint has an impact on their experience," says Mel Tymm, industry principal of order management system developer Maginus.  
"Ensuring that all touchpoints are consolidated into one system, so that a global view of the customer across every channel is available is key to promote a personalised shopping experience. Communication with customers is vital to their experience, so being able to respond quickly and efficiently is a key component in driving a positive outcome, whilst having necessary information to hand. Ensuring every channel has access to all this information in real-time will allow this to take place," says Tymm. 
Malik says that according to Salesforce's own research, nine per cent of digital transactions occur on emerging digital "touchpoints" like voice orders via home assistants, or messaging platforms. He says it is incumbent on retailers to communicate order information, pricing and inventory details as well as promos and content to wherever consumers are engaging with their brand.  
"One of the big trends we're seeing is the need for companies to be on a variety of digital and social channels where their customers are. It's not just a nice to have, but an expectation that they can browse and buy, but also get help on other channels like SMS, on-site chat, Facebook Messenger – really anywhere the customer is," says Malik.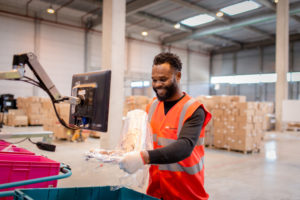 Within the warehouse it's not just overarching IT structures that are changing. Automation has transformed intralogistics with unrivalled efficiencies.  Large scale automation and robotics have been viewed as being the higher end investments, but with the stakes of e-commerce so high more operations are making sizeable investments.  
Gavin Williams, managing director, supply chain – UK & Ireland, XPO Logistics says that XPO is prioritising the use of collaborative and autonomous robots to do the repetitive tasks that are not suitable for automation. "Last year, we increased the use of robots in the UK in anticipation of holiday retail volumes," he says.  
 XPO took on mobile robots manufactured by 6 River Systems, part of global commerce company Shopify. These robots move through the warehouse alongside human workers and adapt to different product types. They guide employees to the correct storage area, validate the items picked and transport the inventory to designated packing stations.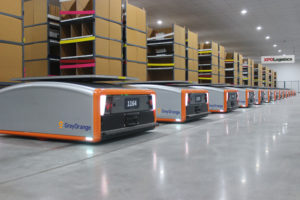 "We've found that employees who partner with collaborative robots are two times more productive on average. And employees supported by intelligent goods-to-person systems, which are fully autonomous, are four times more productive. Both solutions utilise AI and machine learning… They bring out the best in the workforce and accomplish more together than either group could do on their own," says Williams. 
Such synergies are enticing, especially with an expensive and elusive labour force compounding the pressures of retail peaks.  
"While the upfront cost of some types of these technologies might deter early adoption, the potential cost savings can benefit the bottom line," says Johannes Panzer, head of industry solutions, e-commerce, Descartes.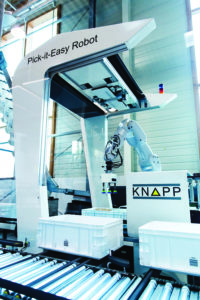 "This can also be treated as an incremental journey, starting with automating single processes like packing machines and conveyor belts, and gradually moving up to more automated picking process with robotics systems," says Panzer. 
At the higher end, the use of augmented reality is also developing to make work processes in the warehouse more productive and decision-making more intelligent. 
"Examples of this include "cycle counting," or finding bin-locations to count quicker and identify those that are in use, "put away" that helps determine empty bin-locations faster, and "picking" for visual guidance that reveals opportunities to reduce search times and improve accuracy for picking the right item in the warehouse," says Panzer.  
The massive growth of e-commerce means that adoption of such high-end technology is no longer cost inhibitive.  In fact it seems inevitable that investment will be a necessity for anyone hoping to take a significant share of the massive online retail market. But whatever systems are taken on, the way they are deployed and aligned with the retail brand will be crucial. Fast, accurate and reasonable fulfilment will always be necessities, but the latest item on the list is to do it all with a deft personal touch.   
More from Logistics Manager
Logistics Manager Analysis: WMS… fit for the future?
Zalando invests in €200 million e-commerce DC  
Zalando is one of Europe's leading online retail platforms for fashion and lifestyle. Founded in Berlin as an online shoe shop in 2008, Zalando now offers a range of more than 400,000 products including clothing, shoes, accessories and cosmetics to over 28 million active customers in 17 countries. Zalando has 14,000 employees and achieved net sales of €5.4 billion in 2018. 
Zalando commissioned KNAPP to automate its new 140,000 sq m (1.5 million sq ft) e-commerce distribution centre in Bleiswijk near Rotterdam, which will serve customers in the Netherlands, Belgium, Luxembourg, France, Spain and the UK. 
The DC will feature a combination of KNAPP's OSR Shuttle storage system and the hanging pocket sortation system from KNAPP subsidiary, Dürkopp Fördertechnik, giving it the highest degree of automation of all of Zalando's nine logistics locations. The retailer is investing some €200 million euros in the overall project, which constitutes an important step in Zalando's growth strategy. By 2023/2024 the company wants to achieve gross sales of €20 billion. 
This is Zalando's first warehouse in the Netherlands. Construction began last summer and the facility is scheduled to begin operation in two years, creating 1,500 new jobs. The DC will provide space for around 16 million articles, with several hundred thousand items leaving the warehouse on peak days.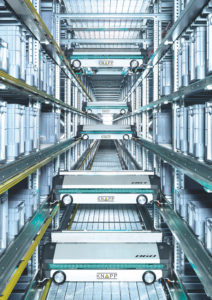 "We have a longstanding partnership with Zalando," explains Sigurd Völker, MD of Dürkopp Fördertechnik, "during which we have made great strides by implementing pocket sorter systems for three large-scale projects." 
The pocket sorter will integrate diverse systems such as the OSR Shuttle Evo, the returns buffer and manual processes in the warehouse. 
"Thanks to the sophisticated technologies, the warehouse in Rotterdam will enable us to deliver orders faster to Belgium, the Netherlands and Luxembourg," says Carl-Friedrich zu Knyphausen, head of logistics development at Zalando. 
Christoph Lafer, vice-president of retail solutions at KNAPP, adds: "We are delighted that Zalando has chosen such a visionary solution and that the KNAPP group has now also come on board to join Dürkopp and Zalando." 
Manhattan and Twilio launch new platform 
In January Manhattan Associates partnered with cloud communications platform Twilio to deliver more personalised shopping experiences for retailers via Manhattan Active Omniis, a unified commerce platform. 
This is a single unified communications solution that retailers can use to engage customers from different areas and multiple communication channels.  It allows companies to easily liaise with customers with personalised communications such as appointment scheduling and tracking, personalised "Lookbook" sharing and product recommendations, using text or email with opt-in and opt-out controls. 
"The store is no longer just a place to shop, but one critical service venue within the brand that influences other service venues. Stores must be able to communicate with customers on the terms a customer prefers. And the communication needs to be targeted and relevant. This is no longer optional," says Kevin Swanwick, Manhattan's senior director of retail solutions. 
"Manhattan Active Omni has the potential to reinvent how companies engage with their customers," says Ross Eberhart, vice-president for industry ISVs at Twilio. "As a result of our partnership, retailers will be able to better listen to their customers, communicate with them via their preferred channels and act on the insights they've gathered through this interaction." 
This article originally appeared in Logistics Manager March 2020.
Click here to subscribe to the print edition of Logistics Manager