Lincolnshire haulier ET Morris has taken delivery of twelve Volvo FH-500 6×2 tractor units with Globetrotter cabs and lightweight pusher axles configured to give a low coupling height to deliver an overall height of 3.95 metres when loaded with a 2.89 metre high container.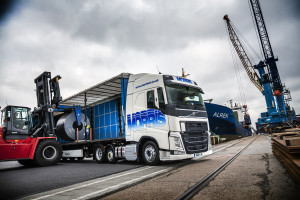 Managing director Jeremy Morris said: "Only Volvo could effectively meet our needs in achieving this. I sat with our local salesman from Crossroads Truck and Bus, Keith Ottley and Duncan Seaman from Volvo Trucks. We configured the chassis using all standard Volvo components, just in a somewhat different arrangement.
"We operate a lot of Euroliner trailers for carrying steel coils and both the primary steel works and many of the delivery addresses, have access heights of just 4.1m, dictated by the cranes within. We also operate skeletal trailers capable of carrying 2.9m high containers while achieving an overall height of 3.95m. Through reducing the standard chassis height by some 200mm we have enhanced our capability in terms of the variety of loads we can carry, he said.