Mercedes-Benz has unveiled a new Sprinter – the third generation of the van which was first launched in 1995.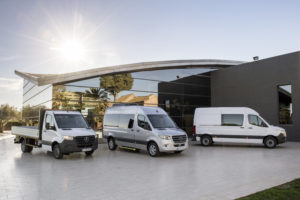 There will be a new front wheel drive version which has 50 kilos more payload than the rear wheel drive Sprinter as will as a loading sill that is 80mm lower.
The front wheel drive version has two newly developed transmissions: a nine-speed automatic torque converter, and a six speed manual. Other developments include improvements to the cab and load space.
It will be available across the Mercedes-Benz Vans Dealer Network from June.
A new eSprinter will enter the market in 2019 as part of the company's strategy for electrification of the commercial van fleet.
The van was unveiled at the newly constructed Mercedes-Benz logistics centre on the Mercator island in Duisburg. Volker Mornhinweg, Head of Mercedes-Benz Vans. Said: "The inland port in Duisburg stands for globality and modern logistics at the highest level. It is therefore the perfect environment in which to present the new Sprinter. The Sprinter continues to embody the traditional attributes that have made it so successful worldwide since its market launch – flexibility, robustness and economy. At the same time it impresses with unrivalled modernity, for example with its connectivity and incomparable variability."