The Premier Paper Group has added 12 trucks to its fleet taking it to a total of 132 vehicles across its regional branch network.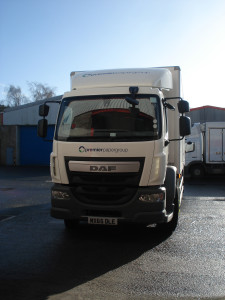 The new Daf Euro 6 trucks include two 12 tonners and ten 18 tonners. They will be added to Premier's regional branches at Dartford, Newton Abbot, Minworth, Leeds, Southampton, Bury St Edmunds, Washington and Glasgow.
Premier's fleet manager Adrian Fraser, said: "This represents a considerable investment by the company and demonstrates a firm commitment to providing the best possible customer service."
"We chose Ryder to supply our vehicles on full lease and maintenance agreements following lengthy negotiations, securing the best price deal to meet our business needs.
"A lot of consideration was also given to the different vehicle types available on the market, suitable for transporting our goods, which is why we chose the DAF LF range. The DAF range of trucks will also help us lower our carbon emissions."
The Washington and Dartford branch trucks will have the new Premier livery (Trees make Paper, Paper makes Trees). Elsewhere, the Reel Paper division in Castle Donington is due to take delivery of their new fleet on the 1st March, which will include two 26tonne and three 18tonne curtainsiders.
Last year Premier's fleet travelled some four million miles and completed 331,256 total deliveries.