PSA Group is investing in its Luton plant to produce a new Vauxhall Vivaro van from 2019 "despite Brexit uncertainties". The UK government has provided £9m funding for the deal which safeguards 1,400 jobs.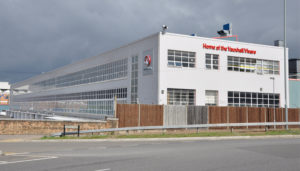 The new manufacturing platform at the site will also optimise manufacturing processes allowing the plant to bid for future vehicle lines as they become available.
The plant produced 60,000 Vivaros in 2017, and PSA plans to expand production capacity to 100,000. The new Vivaro will be based on PSA's EMP2 platform for light commercial vehicles which is due to be localised by mid-2019 as part of the group's technology convergence programme.
PSA, which owns Citroën and Peugeot, bought the Vauxhall Opel business from General Motors last year sparking concerns about the future of the plant. It said the performance plan had been "facilitated by both the responsible social dialogue with the Unite union guaranteeing production flexibility and the support of the United Kingdom Government and Luton Borough Council, despite Brexit uncertainties".
"Performance is the trigger for sustainability and I would like to thank all stakeholders involved and underline the open mind-set of our union partners, as well as that of the UK Government. This is a major milestone for the future of the Luton plant and a key enabler to serve our ambitions in the commercial vehicle market, guaranteeing customers the best offering in this segment" said PSA chairman Carlos Tavares.
The EMP2 (Efficient Modular Platform) has been developed by PSA to enable it to develop a diversified worldwide product line-up and is intended to cover about half of all Peugeot and Citroën vehicle sales worldwide.
The platform was used for the Citroën Dispatch which premiered at the CV Show in April 2016. For the Dispatch, the platform has a reinforced structure with special new front and rear axles. This supports a payload of up to 1,400kg and can tow up to 2.5 tonnes.
PSA set out its plan to boost profitability at Vauxhall Opel in November last year, saying it intended to reduce the cost per vehicle by €700 by 2020. The PACE! Plan involves rolling out PSA two platforms, EMP2 and CMP, to all Vauxhall Opel plants faster than originally planned.
In addition, PSA said: "To foster growth in the financially attractive light commercial vehicle (LCV) business, Opel/Vauxhall will launch new models and enter new markets with the clear goal to increase its LCV sales by 25 per cent by 2020 against 2017."
* When PSA bought the Opel Vauxhall business last year it said it expected to make savings of some €1.7 billion a year, targeting purchasing, manufacturing, and research and development in its drive to cut costs.
In 2012, General Motors agreed to transfer the majority of its logistics business in Europe to Gefco, which was then a PSA subsidiary, as the first step in a global alliance.
The deal covered the majority of the Opel/Vauxhall, Chevrolet and Cadillac logistics activities in Europe, including services such as material and component deliveries to manufacturing plants, delivery of finished vehicles to dealerships and the transport of aftersales spare parts to distribution centres.
PSA later sold a majority stake in Gefco to JSC Russian Railways (RZD). In November last year, PSA and Gefco signed an €8 billion deal for Gefco to manage the car maker's entire global manufacturing supply chain.