Renault Trucks has unveiled a distribution concept vehicle, Urban Lab 2, which it reckons can deliver fuel savings of up to 13 per cent through developments in aerodynamics, engine hybrid technology, and tyres.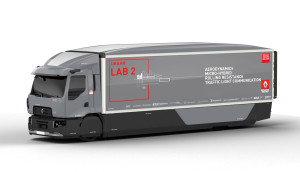 It follows Optifuel Lab 1 and 2 – experimental vehicles dedicated to research and development for long distance transport.
Urban Lab 2, designed using a 19-tonne Renault Trucks D WIDE Euro-6, targets the urban and regional distribution sector.
To reduce the aerodynamic drag, and therefore its fuel consumption, engineers worked on airflow throughout the vehicle. The first step involves reducing the front surface area: "The refrigeration unit is normally located above the cab", explained François Savoye, energy efficiency strategy manager at Renault Trucks.
"On Urban Lab 2, we decided to position it in the wheelbase of the vehicle to free up space overhead and optimise the body/tractor link to lower the body and improve airflow. This meant we could incorporate a roof deflector shaped to provide seamless continuity with the body."
The vehicle uses a Stop&Start system that cuts the engine when the vehicle comes to a stop thereby reducing fuel consumption. In addition, a micro-hybrid system recovers 'free' energy, such as energy generated during foot lift or braking, via a high-power (48 V) reversible electric machine.
The Urban Lab 2 also features technology to help drivers with their driving by connecting the vehicle to infrastructures.
Renault is working with Michelin on energy-saving tyres for distribution vehicles.
Renault Trucks and its partners have set themselves the ambitious target of reducing fuel consumption by 13 per cent compared to an equivalent Renault Trucks D WIDE. The vehicle was tested for the first time on a closed circuit in November 2016 and will be road tested in Bordeaux from February 2017 onwards. The results will be presented at the end of the project, which is scheduled for 2018.
Urban Lab 2 is the result of the EDIT project, financed by the Single Inter-Ministry Fund, Auvergne Rhône-Alpes Region, Métropole de Lyon, Ain Department Council and the FEDER. The vehicle features a range of technologies developed with six partners (Valeo, Lamberet, Michelin, BeNomad, INSA Lyon (LamCoS) and IFSTTAR (LICIT).