The Range has opened its £100 million distribution centre at Avonmouth, which will be operated by DHL Supply Chain.
The distribution hub, designed to support the rapid expansion of The Range home retail brand, is one of the largest in the UK at 1.2M sq. ft. – 14 and ½ times the size of Wembley stadium.
The Range is one of the fastest growing homeware retailers in the UK, with 140 stores around the UK, and 30 further stores scheduled to open in 2017.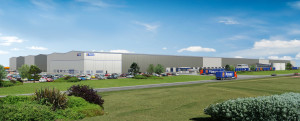 The 1.2 million sq ft hub, delivered by Stoford Developments, will support store growth and expansion of The Range's multi-channel operations, adding to the capabilities of its e-commerce distribution centre in the Midlands, also managed by DHL.
Chris Dawson, founder and owner of The Range, said: "This new, innovative distribution centre will allow us to expand to further locations around Europe while evolving our ecommerce division and providing an even better service in store and online to our local and global customers.
"Along with over 1,000 new jobs, this site will deliver long-term service contracts for local suppliers and inject millions of pounds into the Bristol economy every year, having already supported local firms during the construction."
DHL retail managing director said: "We have worked closely with The Range over the last five years and are delighted to build on our relationship with the management of the Avonmouth distribution centre, the fifth site under DHL's management. This distribution centre is set to substantially improve the logistics infrastructure and reduce transport mileage and carbon emissions by 30 per cent. Accompanied by the new warehouse's state-of-the-art technological capabilities and DHL's experience and scale, The Range will have a strong foundation for its exciting expansion plans, and we look forward to supporting them every step of the way."