You don't have to turn far for bad economic news: M&S to cut 7,000 jobs over the next three months; Debenhams owner on brink of recession; John Lewis to permanently close eight stores…
But hang on… isn't that the same M&S that said it had 'one-off supply chain' issues at Christmas, just months after it said it needed a 'fundamental rethink' of its planning, flow and visibility?
And the same Debenhams that dropped DHL Supply Chain like a hot potato back in 2019, so it could run its distribution operations entirely in-house?
Or the same John Lewis that has triumphed the growth of online grocery retail while its department stores have struggled because "we are buying more Scrabble but fewer sofas" according to chairman Sharon White?
Yes… I think I see a pattern forming here. It is a misunderstanding between the meaning of correlation and the meaning of causation – and that phrase that 'correlation does not imply causation'. And it is a phenomenon sweeping the economy at the moment.
Many businesses are lining up to blame lockdown and Covid-19 for failings. We appreciate that times have been tough, that some businesses have had to put activity on pause and that many sectors have been hit especially hard by the rules of lockdown.
But for businesses, especially high-street retailers, cutting jobs or closing stores they have all been quick to sight the impact of lockdown and Covid-19 as a reason for tough decisions that have been made that affect people's livelihoods.
However, it is not the total story of the economy, take Clipper Logistics yesterday, which saw turnover top half a billion for the first time as its strategy to support e-commerce growth for customers continues to pay off.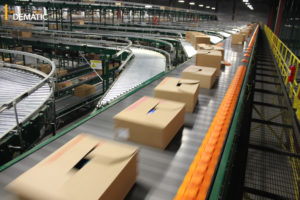 So, there is not a cause-and-effect relationship between Covid-19 and lockdown and economic success. The closures and cuts in the three retailers I highlighted are the result of years and years of chronic underinvestment in a supply chain and logistics strategy that is fit for the 21st century and the demands of customers in 2020. It is the paucity of these decisions that costs jobs and sees businesses fail.
The question for business leaders now should not be one of fighting the immediate fire in front of you, but of thinking what is required to survive in 2021, 22, 23 and beyond… and to do that requires understanding.
Getting that understanding is easier, now we are allowed to work in office and get out and see people given the current guidelines around Covid. To that end I would encourage anyone considering the future of their business to register for IntraLogisteX 2020, get out (safely) and talk (safely) to the 125 innovators and technology leaders looking to support economic growth and transform processes in the warehouse, for the better.
The planning to avoid miserable headlines and poor business returns in the future starts today. And there is no better way of doing that than working collaboratively, improving your understanding of changes in the market and planning accordingly. Make it your priority for 2020.
Christopher Walton, Editor, Logistics Manager

For more details on all 125 exhibitors at IntraLogisteX go to:  www.intralogistex.co.uk