Anyone who has ever had an operation of any severity will know that it's not the initial treatment that hurts, it's the long, slow recovery to full health. As the world recovers from the collective shock of Covid-19, they key word there is recovery… because nations, economies and industrial sectors will recover at a different pace depending on pre-existing conditions.
Consider the very macro level of global economics… in the United States persistent failure at a federal government level in recent years sees a nation unable to recover quickly from the pandemic. Indeed, many would say that it is still swathed with the disease and the damage to the global economy will be felt for some time. In some Asian countries, the European Union and the United Kingdom, where central government is strong, recovery is happening. Kuehne + Nagel admitted as much in its figures for the first half of 2020, where it said that demand for its road transport services (and the movement of goods by road is a perennial bellwether for economic activity) was returning to pre-crisis levels in Europe but remained significantly lower in North America.
At a microeconomic level the ripples of the Covid-19 pandemic are to be witnessed in every business in the world. Take Ted Baker who, this morning, said that it would be cutting the number of suppliers in its supply chain from "more than" 150 to "less than" 100. Ted Baker has had its struggles, and Covid-19 may not be the only reason for it cutting its costs and centralising its buying power – let us not forget the £58 million of excess inventory it discovered at the beginning of the year. But for those 50 or more suppliers, cutting ties with a buyer during what we are all waiting to be confirmed as a recession will be painful.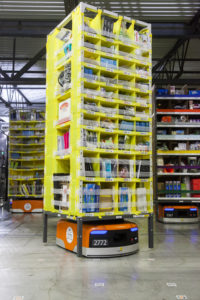 Picking out the negative economic figures to prove that Covid-19 is 'bad' is a pretty easy gig. It's not hard to prove that assumption given the weight of evidence. It was bad, and we all know it was bad, and – as I wrote at the beginning of the pandemic – without logistics it could have been even worse. Yet picking out the figures pointing to recovery is worth the perseverance. Like anyone who has recovered from surgery will know, that first walk out of the house, that first time you make lunch for yourself, are moments to be seized upon and revel in on the path to recovery.
Take the £8 million that is being invested in a West Yorkshire mid-box by digital healthcare company HubR to create the UK's first automated dispensing hub purpose built for independently owned community pharmacies. This is the microeconomic future of retail.
Take the £100 million that Hermes is investing in its warehousing capacity and recruitment drive for some 10,500 new employees – including 9,000 couriers. At a time when job losses in traditional retail environments are a daily occurrence, this is the shift in the route to market at play. It will be difficult for those that lose jobs, and face a choice in career transition, but consumer demand is driving the market and business is already having to re-shape itself to react.
Even in the US, Amazon said that its SME sellers had sold 3.4 billion products through the e-comm giant in the last 12 months, up from 2.7. billion in the same period in the previous year. On average 6,500 SME derived products are sold on Amazon in the US every minute. More than 3,700 SMEs topped $1 million of sales via Amazon for the first time.
These market forces are re-shaping logistics before our eyes, right at this very moment. It's easy to get stuck on the negative when looking at the impact of Covid-19… but it's worth the persistence of looking harder for the positive ways in which it will change logistics for the better.
Christopher Walton, Editor, Logistics Manager