The October 2018 issue of Logistics Manager is out now online as well as for the iPad and Android.
COVER STORY
Home Delivery: I want it now 
The booming world of online shopping is the tiger of the retail market. But, can the delivery market keep up with consumers who demand instant gratification?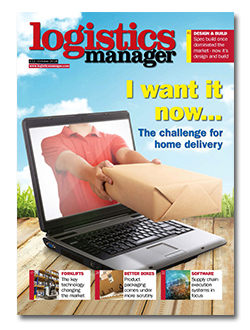 Technology: Fork in the road
With so many new technologies and applications surrounding forklift trucks, which is the best option? Should you just disregard your fleet and simply upgrade, or perhaps some new tech is all you need?
Supply Chain Execution: Tech to move merchandise
What should companies be looking for from supply chain execution systems to meet the challenge of today's markets?
Packaging: It's a very big box…
It's a common complaint that a small internet purchase was delivered in a huge box – and it is putting product packaging under scrutiny as never before.
Temporary buildings: Flexible sheds
Warehouses are filling up as the Christmas peak looms – perhaps it's time to look at temporary space solutions…
West Midlands: Squeezed until the pips go squeak
A lack of supply and sustained demand is putting pressure on limited land resources.
Property: The rise of D&B…
In 2008 speculative development dominated the market at 70 per cent, while 2018 has seen the complete reversal, where design and build dominates. The question is why and the answers are not quite as straightforward as expected