Aggregate Industries, the building materials supplier to the construction and infrastructure industry, and Eddie Stobart have gone live with their new logistics partnership.
Simon Marriott, concrete products director at Aggregate Industries, said: "We're excited that our new partnership with Eddie Stobart has commenced. We've spent the last few months gearing up for the changeover and, now the trucks are on the road, our customers will start to see the benefit of this partnership, including a more flexible, innovative and safer service."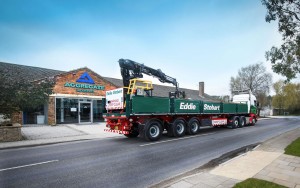 Stobart is carrying Bradstone, Charcon and Masterblock products from 14 UK sites, using a combination of specialist curtainsiders, flat trailers and mechanical off-load vehicles.
It has staffed a new traffic office centred around the new work and has created numerous specialist driving roles. The Aggregate Industries contract will have a dedicated team of driving, operations, customer service and HSEQ staff, plus its own partner haulier operations desk.
Aggregate Industries now has the ability to track every load in real time, with an enhanced IT systems.
Alex Laffey, Eddie Stobart CEO said: "Behind the scenes, in preparation for the contract commencement, representatives of every key function from both Eddie Stobart and Aggregate Industries have been working very closely to provide a one-team approach and allow both companies to hit the ground running to make the transition all the more seamless for the end customers."