Ford Motor Company has awarded DHL Supply Chain a contract to manage the movement of prototype parts from suppliers to Ford's R&D locations around the world.
The contract builds on a long-standing relationship between Ford and DHL, where the lead logistics partner model has been implemented for the inbound supply to manufacturing of its production cars across Europe and Asia.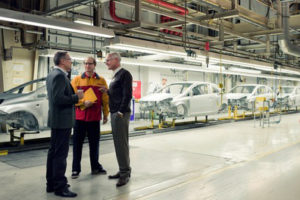 DHL has been appointed as Ford's global provider of freight management, driving standardisation and efficiencies across the business.
"This new contract builds on our longstanding relationship with Ford and our established LLP model, and we look forward to working closely together over the coming years," said Todd Starbuck, global LLP president at DHL Supply Chain.
* DHL Freight is to open a freight hub at the Hanover Airport Business Park in Langenhagen.
Work is due to start on the facility at the start of 2018. The Langenhagen site near Hanover Airport was chosen for its good transport connections for both long-haul and short-haul transport.
A transhipment terminal equipped with more than 80 loading bays and stretching across more than 7,800 sqm will provide sufficient capacity to process over600,000 tons of LTL cargo per annum. The development of the DHL Freight site also includes the consolidation of the two existing Hanover sites (Stelingerstrasse and Büttnerstrasse) at the new location.