FORS, the Fleet Operator Recognition Scheme, has welcomed its 500th practitioner, James Lewis, SHEQ director at Brogan Group, which is a FORS Silver member.
"We ar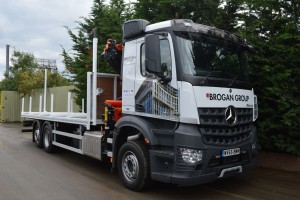 e pleased to congratulate James Lewis and Brogan Group as the 500th FORS Practitioner delegate," said Anne Johnson, FORS operations director. "It is great to see that the company is dedicated to safe and efficient operation as James is the third to complete the Practitioner workshops within the Brogan Group."
Lewis is the third person at Brogan to have achieved the qualification. "The FORS Practitioner workshops have been invaluable in providing the knowledge and training to our management team to control and develop our existing logistical management systems, in line with current and forthcoming legislation," he said.
One of the main benefits of being a FORS accredited company is access to fully funded training, including a series of nine FORS Practitioner workshops.