Fowler Welch launches eco trailer
Fowler Welch has launched a trailer which emits 50 per cent less CO2 than a standard refrigerated vehicle, by using kinetic energy to power the refrigerated trailer.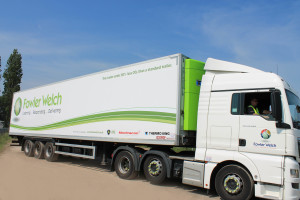 It said the trailer could reduce CO2 emissions by upwards of 14,000kg per year. The trailer stores previously lost energy generated from the trailer axle – which then powers the refrigeration unit.
CEO Nick Hay said: "Listening to the needs of our customers, many of whom cite environmental targets as a major influencer on their supply chain operation, we are looking forward to seeing how the new eco trailer can help to deliver these targets."
The new trailer charges in-built batteries at 'as little as 5-7 mph allowing up to 90 minutes of stationary power before the hybrid motor kicks in.'
Paul Allera, head of fleet at Fowler Welch, said: "The new trailer enables us to manage deliveries in areas with noise restrictions by negating the use of the unit's diesel engine to power the trailer and decreases the volume of fuel needed, helping us to reduce CO2 emissions and operating costs."