WH Smith is looking for productivity gains at its distribution centres to help it make £12 million savings in its high street business this year, the company said in its half year results.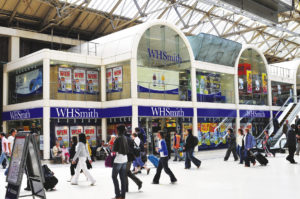 "We achieved cost savings of £7m in the half and expect to deliver £5m of cost savings in the second half, giving a total of £12m of cost savings for the year. These savings come from right across the business, including rent savings at lease renewal, marketing efficiencies and productivity gains from our distribution centres."
Like other retailers, WH Smith is finding high street trading conditions difficult. Trading profit in the high street business was £50m in the six months to 28th February – down from £53m the year before.
In contrast, the travel business, which is made up of its shops at railway stations and airports, saw trading profit rise to £41m from 39m last year.
Chief executive Stephen Clarke said: "In Travel, which is the largest part of the Group in both sales and profit, we continue to see strong sales growth, up 7 per cent, driven by continued investment in our UK and international businesses and on-going growth in passenger numbers. As a result, profit in Travel was up 5 per cent in the period.
"We have also had a record period for tender wins internationally, with 26 new units won since the start of the year, including eight units in Madrid Airport and our first seven units in South America in Rio de Janeiro. We are now present in 48 airports across 27 countries.
"Our High Street business delivered a good first half performance, despite no publishing trend to match last year's strong sales of humour books over Christmas. Stationery performed particularly well in the period, including our seasonal categories over Christmas and our 2018 fashion ranges."